Available wherever fine e-books are sold: Vampires & Shapeshifters by Debra Doyle and James D. Macdonald.
Contains: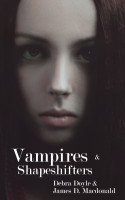 Bad Blood (short story)
Nobody Has to Know
Up the Airy Mountain
Ecdysis
Philologos; or, A Murder in Bistrita
"Bad Blood" is the short story that started it all; our first professional sale in the fantasy/SF genre.  Werewolves in high school and a camping trip gone horribly wrong.   "Bad Blood" eventually turned into a series of three YA novels.
"Nobody Has to Know" is a very short vampire story.  Its unique style got it featured in an English textbook in Australia.
"Up the Airy Mountain" is another short story in the Bad Blood continuity.  Werewolves vs. elves.  Features Val Sherwood, teen werewolf, and her best friend, Freddy Hanger AKA "Van Helsing in High School."
"Ecdysis," a shapeshifter story, introduces Orville Nesbit, a psychic detective, who I'm planning to have star in his own novel one of these days.   Someone is killing strippers in horribly grotesque ways.  Orville brings his unique talents to the case.
"Philologos; or, A Murder in Bistrita" is a short story in the Land of Mist and Snow universe, featuring the earlier adventures of Captain Sharps from our novel.  William R. Sharps, PhD, faces death and worse in eastern Europe as he searches for a rare manuscript.  But after going through finals week eight times at Miskatonic University, a nest of vampires won't faze him.