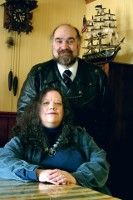 Dr. Debra Doyle and James D. Macdonald have written over 30 novels. These novels span science fiction, fantasy, horror, young adult, and techno-thrillers.
Dr. Debra Doyle attended University of Pennsylvania, where she received a PhD in English. She is expert in field-stripping semniotic weapons and disarming plot bombs.
James D. Macdonald attended the University of Rochester, where he learned that a degree in Medieval Studies wouldn't fit him for anything. He went off to sea "to forget," though he's forgotten exactly what. As an enlisted Boatswain's Mate in the Navy, and later as an officer, he saw the world, and discovered that three quarters of it was water.
They have been nominated for the James Tiptree, Jr. Award and received the Mythopoeic Fantasy Award for Children's Literature in 1992.
They are founding instructors of the Viable Paradise Writers Workshop.
They live in a big 19th-Century house in Colebrook, New Hampshire, where they learned to drink Moxie and collaborate in writing science fiction and fantasy for children, teenagers, and adults.
Together, Jim and Debra are releasing much of their backlist on ebooks – the latest being the Bad Blood trilogy. Their latest book, The Gates of Time – A Peter Crossman Mystery, will be released by Tor in early 2013.
Debra Doyle and James D. Macdonald are represented by Russ Galen of Scovil Galen Ghosh Literary Agency, Inc.
As Munngralla says in The Price of the Stars, "It's all for sale."